Click on the links below.
About Library:
SID library is spread over 3400 Sq. Ft. on the ground floor. Library has Reading Hall, Thinking Room and Faculty Research Room. Seating capacity is 110. The Library has a collection of books, national and international magazines, international journals, e-resources, audiovisual material, Degree Projects, peer review & as a unique collection library has trend forecast magazines called "Promostyl, show details, Next Look'. SID Library uses "COLOR CODING system for books. It also uses Automation software KOHA. Library has more than 12000 books, 1245 educational audiovisual collection etc.
Items Type
No. of Items
Books
12017
Online Journals
10
Online Database -
1.The Art of Aaron Blaise
2. SCHOOLISM
2
International Magazines
34
International Journals
5
National Magazines
15
Audio Visual Material
1245
Total No. of CD ROMs
846
Total No. of Degree Projects
1018
Technical Projects
110
Archive of Bound Volumes
1080
Special Collection of Promostyl Forecast Magazines for- Men's, Women's , Color & Influence and Design. For 2013-14 to 2020-20 ( Spring / Summer / Autumn / Winter )
56
Pantone Color Guide for Fashion and Communication
10
Library Automation
KOHA Software with Bar-coding
Library Services
Color Codes System for Books
Audio Visual Library
Inter-Institute Library Loan
Internet Connectivity Wi-Fi
New Arrivals
Book Exhibitions
Locker System for users
Koha Web-Opac
Scanner for students
Alumni and Corporate Membership
Library Hours
Monday to Friday - 9.00 am to 5.00 pm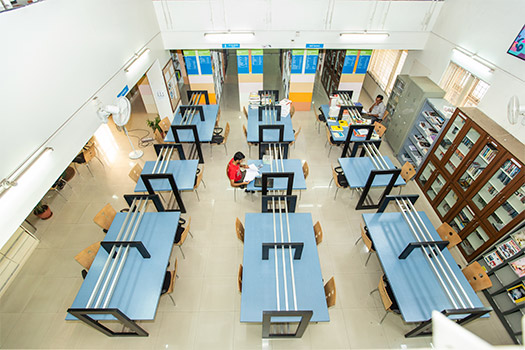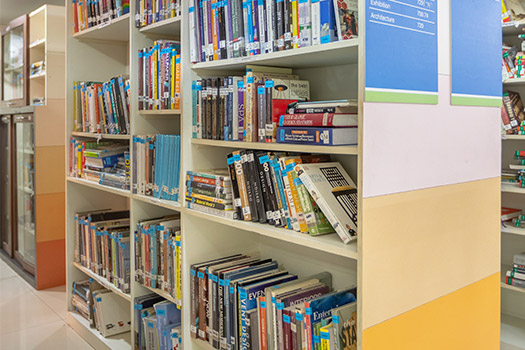 Statistical details about collection:
| Sr. No. | Item Type ( Resource Type) | Total Collection |
| --- | --- | --- |
| 1 | Books | 12017 |
| 2 | International Magazines | 34 |
| 3 | International Journals | 5 |
| 4 | National Magazines | 15 |
| 5 | Educational Audiovisual | 1245 |
| 6 | Projects Reports | 1128 |
| 7 | Bound Volumes | 1078 |
| 8 | Special Collection –Forecast Magazines | 56 |
| 9 | Pantone Guide | 5 |
| 10 | E-Resources | 14 |
The aim of the Library is to enable the users to make the most effective use of resources and services of Library. It usually allows open access to the user.

The objectives of Library:
The Library provides pinpoint information to the user in their particular subject field.
To reduce the gap between the user and the resources of the Library.
To help in preparation of the course of the materials by providing ready model bibliographies on related topics.
Library Timings:
| Days | Library Hours | Issue-Return |
| --- | --- | --- |
| Monday to Saturday | 9:00 am to 5:00 pm | 9:00 am to 4:30 pm |
| Exam Days | 9:00 am to 8:00 pm | 9:00 am to 6:30 pm |
Library General Rules:
1. Every person who enters the library has to sign in library entry register
2. Students can issue 3 Books for 15 days. I-Card is a must while issuing of book.
3. Books returned After Due Date will be charged a fine Rs.10/- per day.
4. Students can issue 1 International Magazine for 8 days, if return after due date Rs.50/- will be charge as a fine per day.
5. Students can issue 1 National Magazine for 8 days, if return after due date Rs.10/- will be charge as a fine per day.
6. Faculty members can Issue 10 books for 1 month.
7. All Library users will get Library material as Library Rules.
8. Do not change the seating arrangement in the Library.
9. Once read please keep your Book / Magazine / News Paper on the Circulation Counter.
10. Fine for overdue documents, damage documents, and loss resources etc. students should pay the fine as per the library rules which are approved by library committee. (for details students can visit the library)
11.If library book/magazine lost or misplace by student immediately he/she should report to library. Whenever student report to library for lost his/her daily fine will be stop on the date of reported. Else fine will be increase per day as per the rule.
12. Smoking, spitting, eating, loud conversation, mobile using, headphone using, and similar objectionable practices are forbidden in or near the library. Student may make use of headphone for listening to music only in the library thinking room
13. For lost book/magazine student has to replace the new book with the fine. And in case the book or magazine is rare/out of print, then actual cost as per the Accession Register
Type of books/ Magazine
Fiction / General
Course related books / Magazine
Course related books / Magazine
Course related books / Magazine
Services:
Library Services & Facilities:
Borrowing Facility
Category
Borrowing Facility
Books
Days
Periodical
Days
Audiovisual
Days
Students
3
1
1
8
1
3
Permanent Faculty
10
30
4
15
4
15
Visiting Faculty
4
8
0
0
0
0
Sister Institutes of Symbiosis
4
8
0
0
0
0
Other Services
1. Computerized services: Users can search the library resources online through OPAC (symbiosis-koha.informindia.co.in). In the case of multiple copies, one can reserve a copy only if all copies of the title are issued. Member can recommend books for the library through OPAC.

2. Online Access to E –resources: The Library has subscribed databases like EBSCO, Emerald Insight, JOSTOR, etc., SID Library has subscribed ten e-journals of Sage Publication.

3. Inter Library Loan: The Library has ILL Service to all sister Institutes of SIU, from 2012 ILL service is used by SIS, SIMS, SCMC, SSLA, SLS, SSIS, Symbiosis Society, & Central Library SIU, eight institutional memberships namely

4. Reading Room & Thinking Room: SID Library have a reading hall facility for users. There is a discussion area in Library called "Thinking Room" backyard with greenery in site. Other than reading hall reading tables are spread all over the library near book racks. About 100 students can seat at a time.

5. A 3 Table Top Scanner: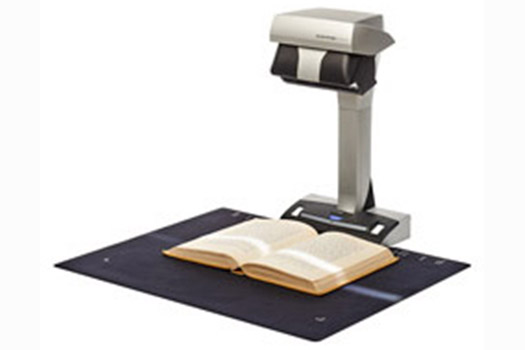 Scan Snap SV600 makes overhead scanning simple, providing users with limitless possibilities.SV600 is ready to scan in just 3 seconds! With an advanced cropping and orientation technology built-in, Scan Snap SV600 can scan several business cards, photo Collection Development: Any member of SID may recommend the purchase of the relevant book to the librarian. Books from vendors on approval will be available in the library from time to time. All members are encouraged to peruse the titles on display and make recommendations. Recommendation forms are available at the library.

6. New Arrival: The library has a practice of new arrival. Whenever the library procured new resources, library staff display all the new resources for two weeks on the new arrival before being available for general circulation.

7. Circulation of Materials: The library has user's library cards for each user of the library. The user has used these cards for the transaction of library resources also library staff used Koha for circulation. A member may have a maximum of three books and at a time. The books are issued out for a maximum of two weeks, and then they may be renewed for one week. Bound journals may be issued out for a maximum of three days.
E-Resources:
List of E-Journals subscribed by SID

E-Resources subscribed by SIU
| Sr. No. | Title |
| --- | --- |
| 1 | EBSCO |
| 2 | Elsevier: Science direct - Management |
| 3 | Emerald Management E-Journal |
| 4 | Web of Knowledge |
| 5 | Frost & Sullivan |
| 6 | JSTOR |
| 7 | Scopus online database |
| 8 | Factiva |
| 9 | E Research |
| 10 | EndNote (Reference Manager Tool) |
| 11 | InCites |
To access E-Resources click here: http://library.siu.edu.in/paid_subscription.php
Library Committee:
| Sr.No. | Name | Designation | Role |
| --- | --- | --- | --- |
| 1. | Dr.Sanjeevani Ayachit | Officiating Director | Chairperson |
| 2. | Dr.Manohar Desai | HOD-GD | Member |
| 3. | Mr.Niranjan Mhamane | HOD-AFD & VFD | Member |
| 4. | Dr.Pranita Ranade | Dy. Director / HOD-UED | Member |
| 5. | Mr.Prasanna Halbe | HOD-ID | Member |
| 6. | Dr.Sangeeta Paliwal | Dy.Librarian-Central Library SIU | Invitee Member |
| 7. | Vidya Dhanwantari | Library In charge | Member Secretory |
Purchase Suggestion:
User can recommend the books, magazines through WEBOPAC
http://symbiosis-koha.informindia.co.in/cgi-bin/koha/opac-suggestions.pl


Library Staff:
Vidya M Dhanwantari - Library In charge
Appasaheb Jadhav - Assistant Library In charge


26557218/19


Statistical details about collection:
| Sr.No. | Item Type ( Resource Type) | Total Collection |
| --- | --- | --- |
| 1. | Books | 12017 |
| 2. | International Magazines | 34 |
| 3. | International Journals | 5 |
| 4. | National Magazines | 15 |
| 5. | Educational Audiovisual | 1245 |
| 6. | Project Reports | 1128 |
| 7. | Bound Volumes | 1078 |
| 8, | Special Collection –Forecast Magazines | 50 |
| 9. | Pantone Guide | 5 |
| 10. | E-Resources | 14 |
Important Links:
1. Koha Webopac
http://symbiosis-koha.informindia.co.in/

2. SIU Library Portal
https://www.library.siu.edu.in/index.php

3. NDL
https://ndl.iitkgp.ac.in

4. Swayam

5. NDLTE
http://www.ndltd.org/

6. Shodhganga
http://shodhganga.inflibnet.ac.in

7. British Library Catalog
https://www.bl.uk/catalogues-and-collections